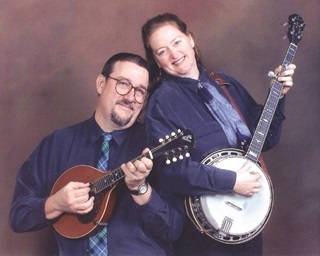 John Kerr and Colleen Liggett have been making music together for years.
High on a hill above Springwater valley is the beautifully renovated farmhouse where musicians Colleen Liggett and John Kerr live. I had a marvelous view of the valley from the wide stretch of windows in their living room as I interviewed the couple.
"You've heard about our Monday parties, haven't you?" asked John. On occasional holiday Mondays, their friends and neighbors join them in their home or, during the warmer months, on their magnificent wraparound porch. "We have gatherings, conversation and music. We play fiddle music on the mandolin and banjo," says Colleen.
Colleen earned a master's in voice from the Eastman School of Music. Later she found her areas of most interest - Medieval and Renaissance music and folk music. She has spent much of her life as a singing teacher and performer. Most recently, until last June, she was working as a church musician in Auburn, New York. She plays many different instruments, focusing mostly on banjo and mandolin.
John has played mandolin for over 30 years, but modestly says, "I am not a professional, just and enthusiastic amateur." He grew up in a musical family and started out playing guitar in high school. Then in the 80's he developed an interest in English folk dancing (contra dancing) as he attended the international folk dancing nights at the Unitarian Church in Rochester. This interest led him to want to learn the contra music, so he proceeded to learn the mandolin, and eventually became good enough to play the Rochester Chamber Orchestra in 1985. He also met Colleen at a contra dance in 1982, and that's how their collaboration as musicians and, consequently, marriage partners, began.
Colleen and John have performed together at such venues as the Springwater Fiddlers Fair, the Wayland Area Historical Museum's Pioneer Fair, the Genesee County Museum, the Clayton Opera House in the Thousand Islands, and several area senior centers, and have even provided the background music at a Belhurst Castle wedding.
They also often perform separately or with others. In 1998, Colleen accompanied her friend, Mitzie Collins, on a trip to Russian for one week to perform in a "sister city cultural exchange" program. She has also sometimes performed with Mitzie playing Shaker music and folk songs at concerts in Rochester.
Occasionally, John and Colleen join in on the Irish music jams at the American Hotel in Lima on the first Sundays of each month during fall and winter. Also, Colleen participates in a group that does sacred harp shape-note singing (old-time social singing) in Rochester, and is a member of the Geneseo String Band.
The couple also has other talents. John has retired from a career in computer programming, and still occasionally does Macintosh consulting and technical support; he is also working on developing and iPad application that tracks progress toward goals for business purposes. Colleen is teaching a Tai Chi course out of her home.
They are both ever pursuing their musical interests as well. At present, John and Colleen are working on starting up a contra dance band in the Springwater area, and are also interested in starting up a Shaker singing group. Colleen is teaching community classes in Tai Chi and voice at Wayland-Cohocton schools, and offering lessons in singing, mandolin and banjo at The Music Store in Wayland. She is also exploring the possibility of reviving the Rochester Gregorian chant group or starting a new one.
The couple's musical repertoire is always expanding as they continue to learn and play. Currently, Colleen is learning how to fiddle. Their interest in music is not pervasive; it seems to be a lifestyle for them. They not only perform for others, but play together just for each other at home each night. Colleen says her mission is to "use my talent, training and experience to help everyone know that music participation enriches life."
For more information about singing, mandolin, or banjo lessons; the Tai Chi course; starting up a band or musical group; or hiring the couple for a gig; you can contact Colleen at 585-235-7947 or email her at: colliggett@gmail.com
For Macintosh consulting or support, John can be reached at 585-298-1462 or email him at: johnkerr48@mac.com
Diane Olson is the Editor & Publisher of The Lake Country Weekender, LCWeekender@stny.rr.com
Say you saw it in The Lake Country Weekender!